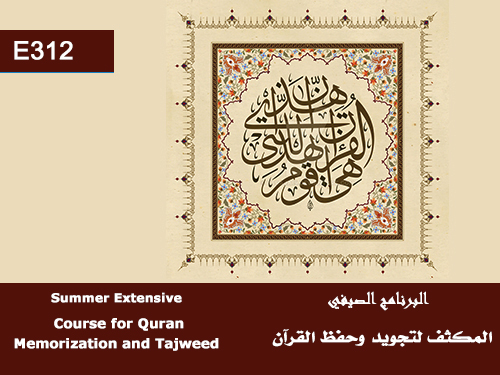 Program Description:
This summer program invests in summer vacations for students aged 10-16 years, and aims to improve their recitation of the Holy Quran in addition to memorizing a portion of the Quran. The program is distributed over four levels.
The course duration is 20 hours (3 hours per week). The number of students in the online class is from 3-5 students only.
All levels teach the rules of intonation.
Level 1 312A: Improving recitation
Level 2 312B: Tajweed Rules + Memorizing One Juz
Level 3 312C: Tajweed Rules + Memorizing Three Juz
Level 4 312D: Tajweed rules + Memorizing Five Juz

Students at all levels study the following rules of intonation:
1)
Introduction of the science of Tajweed
The virtues of learning and reciting the Holy Koran
Al Isti'adha and the basmallah
The point of articulation of the letter – Makharij al Huruf
The characteristics of the letters– Sifat al Huruf
2)
Prolongation – different types of Madd
Noon Sakina and Tenween (rules of N sound)
Mim Sakina (rules of M sound)
Al-ghunna
3)
The letters Lam and Ra
Al-idgham
Al-mutamaathilain, al-mutajaanisain, al-mutaqaaribain, and al-mutabaa'idain
Hamzatu al-Wasl
Program Goals:
1. Help students to gradually memorize and revise the Quran.
2. Learning the Quranic terms and recitation manners.
3. Learning the Tajweed rules gradually.
4. Instilling honor of the Quran in the students' hearts through memorization and revision.


Eligible for the program:
Ability to read Arabic letters.
Age: 10-16 years old.

Fees:
$75 for the program

Certificate:
An oral exam will be held at the end of the program. Students who score more than 50% will obtain Program E302 completion certificate.